The Nuke Dodges a Bullet -- This Time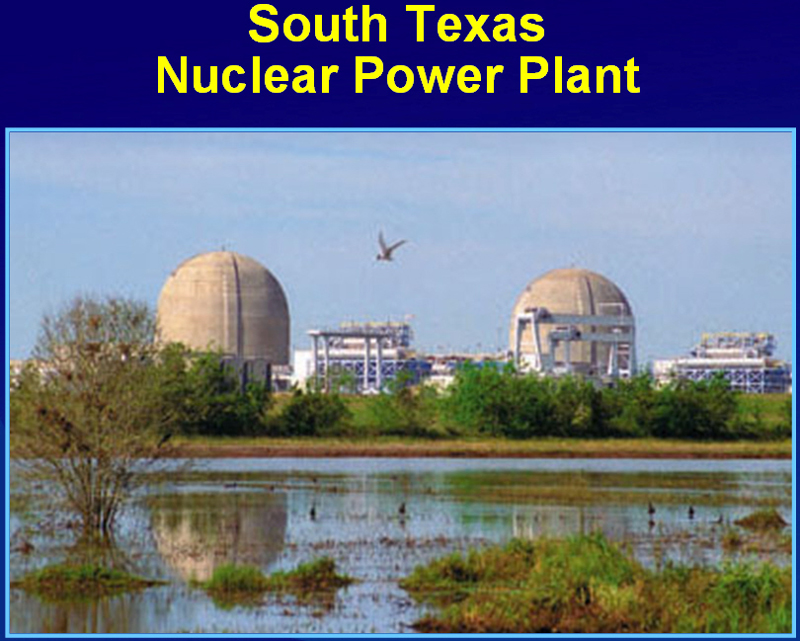 Such a sweet photo, isn't it? Two symmetrical concrete towers and outlying buildings, a nice marsh full of migratory birds, a lone seagull flying overhead. Nature has adapted to man's intrusions as best it can. All is calm.

Now, imagine you're in a helicopter and you slowly pull back and to the right. You're now flying over coastal marshland and wetlands. A mile or so east and here you are in Matagorda Bay, which if you look just a little further out, past Matagorda Island, is the Gulf of Mexico.

Yesterday, this very spot was Ground Zero for Hurricane Rita. As of now (Thursday afternoon), Rita is predicted to hit northeast of The Nuke. I'm breathing a little easier today.

I grew up in Palacios, a tiny town a few miles south of The Nuke on Tres Palacios Bay. My first job was at The Nuke, in the accounting department of Brown & Root, in the summer of 1978. B&R was in the initial phases of constructing the reactors at that point, so there were hundreds of workers and the place was abuzz with activity 24/7. I had to wear a hard hat any time I walked out of the office -- safety first! From the outside, everything seemed to be progressing smoothly.

On the inside, however, was a different story. The accounting office was across the hall from the quality control office and there was a fierce rivalry between the two. Every day during lunch, desks were pushed back and tables set up for card games. Specifically, Spades. Two teams, four players from each office. Bets were placed. Scores were recorded on a large poster board kept in the head accountant's office.

Us peons in the office had strict orders not to interrupt those involved in the game for any reason. No phone calls, no questions. Sometimes those games went on long past the official lunch hour. There was an unspoken rule that as long as the big-wigs were playing, the rest of us didn't have to work, either. So my accounting cohorts and I would wander the buildings and construction site, visiting our friends in other departments.

My carpool buddy Eddie worked with the framing crew on the first reactor, building a four-foot-thick retaining wall to seal in the radioactive fuel rods. They would frame a few feet up, then the concrete guys would come in behind them and fill in what they'd framed. Eddie often laughed about how many wrenches, hard hats and other debris were accidentally dropped and mixed in with the concrete, creating lord knows how many air pockets and areas of instability.

I was 18, still pretty naive about the ways of the world, so back then I was amazed they could get away with doing such a crappy job on such an important construction project. Eddie would just pat me on the head and say, now Melody, you know as well as I do that we'd get our asses kicked to the curb a lot more if those QC guys would quit farting around -- in YOUR office -- long enough to come and do their job. He had a point.

I worked there for three months, then went away to college. A year or so later, I became a born-again eco-activist and returned to Palacios to protest against The Nuke, amidst stories of rampant mismanagement by -- surprise! -- Brown & Root and massive cost overruns. My protests fell on deaf ears, mostly because The Nuke was a veritable windfall for the town, employing hundreds of people and pushing the school district's tax base into the millions, affording them the opportunity to air condition their schools, build a fancy auditorium and pay teachers a decent wage.

Hard to argue with the seemingly endless flow of money, so shortly thereafter I stopped pasting flyers all over town, most of which were torn down as soon as I'd put them up; stopped writing articles and letters to the editor, most of which weren't published; stopped trying to talk my parents out of moving away from their beloved hometown, because they weren't about to budge, no, siree.

I felt like the lone voice of reason, and believe me, that's a scary place to be. Then, as now, my protests centered around the fact they built The Nuke just a few short miles from the Gulf, right in hurricane alley. Given what I know about its construction history, I'm concerned the reactors' retaining walls won't hold up during hurricane-force winds, releasing radiation from the reactors' fuel rods. If this happens, at the very least, the water table, marshland, bay and Gulf will be contaminated; at the very worst, many lives are at stake.

This area of Texas has had its share of hurricanes, just in my lifetime. The deadliest ones have occurred in September. In 1961, Carla, the second largest hurricane on record at the time, made landfall between Palacios and Port Lavaca and devastated both towns. There were only 34 deaths attributed to this hurricane, mainly due to the largest peacetime evacuation in U.S. history -- more than a quarter million people were evacuated inland, including my family. I was barely two years old, but I have memories of my grandma's house in Pasadena crowded with people, no electricity, cooking on the gas stove by candlelight, and lots of singing. Friends of ours who remained to ride out the storm still talk about standing at their second-story windows and watching a 20-foot tidal wave inundate Palacios, washing giant shrimp boats 14 miles inland.

In 1967, Beulah -- third largest hurricane ever -- hit at Brownsville, then did the unthinkable; it went back out in the Gulf and rammed its way up the coast. I was seven and remember this one clearly. Dad had to stay at Alcoa to help keep the refinery from blowing to bits, so mom and us kids crowded into the neighbor's truck and drove to grandma's. I saw so many tornados on the way, I stopped counting; to this day, the sound of wind and rain terrifies me. We learned later a killer tornado touched down in Palacios, killing four people. There was so much flooding between San Antonio and Palacios, the whole area was cordoned off by the National Guard for a week until flood waters receded.
Fern and Edith hit within two days of each other in 1971. With Fern, Palacios experienced 100 mph winds; at Matagorda Bay, four Cuban fishing vessels washed ashore.
The Nuke received its first direct hit with Hurricane Frances in 1998. Luckily, winds reached "only" 70 mph and tidal surges were recorded at eight feet. That was the first time it dodged a bullet.
I talked to my aunt on the phone this morning, describing my vague nightmares last night of storms and grandma's house and radiation sickness. She calmed me down in that soothing, special way reserved for those who are medicated with anti-depressants. Bless her heart. She's safe, my dad's safe, we're all safe. I don't know what I was worried about.